Logo Design & New Site for Perfect Christmas Presents
I'm writing this blog about a new logo design I did for a Christmas website and at the same time a little fan is blowing behind my chair trying to cool me down as the temperature is around 30 degrees, I get the irony :D
In the last 3-4 days I've been working together with my partner building a new website called http://PerfectChristmasPresents.com
As the art director for the project the logo was the first element to be develop. The colours used in the logo were to be used for the site colours as well so all the pressure was on me….no pressure. As this is a personal project time was tight to get it done as client work always comes first!
The biggest problem for me was the name, "PerfectChristmasPresents.com"….it's very long, so it made my job just a little bit more difficult…Again, no pressure.
I designed 4 different logos and we decided to share them with our friends on Facebook and ask for their opinion. This is not the first that we have asked them for help, and they are always very helpful. So then it was the moment of truth, the entire logo process had to be done in 24 hours….again, no pressure at all :)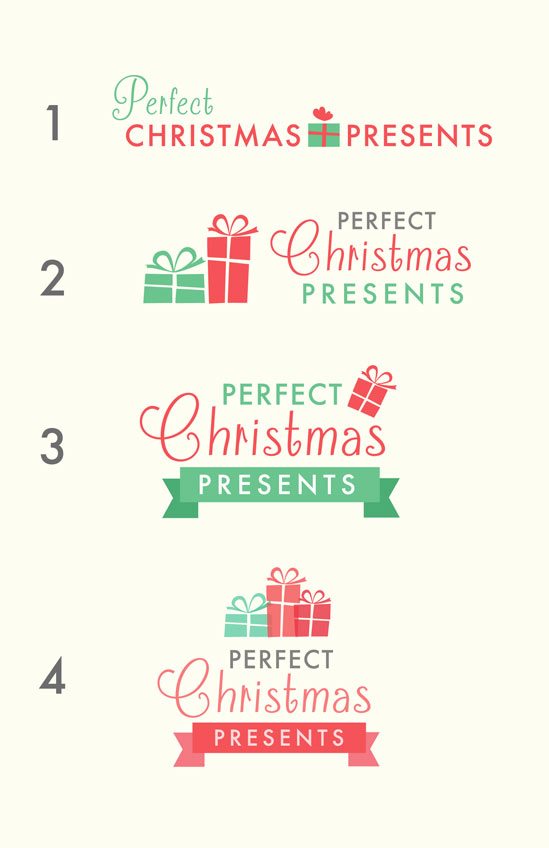 Logo Design & New Site for Perfect Christmas Presents
The logo that got most votes was number 3 and to be honest I liked that one too. The only problem that everyone saw was that the word "Presents" in the banner looked more like "Perfect Christmas Presents: The Best Show You'll See This Christmas" so I needed to do some changes. I tried to change the banner for a Christmas ribbon but it didn't work at all (3 hours trying different ribbons argggg!!!). So in the end, the logo was modified to make it work for the time constraints that were in place (and for the good of my health…I couldn't handle drawing more ribbons!).
Below you can see the final logo design for PerfectChristmasPresents.com and I like it because it is clean, easy to read, has great balance between all the elements, and I love the little illustration of the present. The logo was also designed to fit the site and it looks even better there :)

As a bonus I'll share with you some graphic design and image editing I've done for the website. These images all have the logo used in the background and it's only when you start to use a logo in different formats and places can you how well it "works". When you're able to add the logo to a stock photo like this and everything seems to balance that's when I know the logo is going to work. Hopefully the site will be a success too – need to buy a Christmas present anyone? :d