You pressed the + because you're curious, I like that..
You can search the site from here and track me down online!
If you want help with any design project please
get in touch.
Branding is the glue that sticks all of your marketing efforts together. It is important for your branding to be coherent and logical whilst at the same time focused on your overall business objectives. Your branding also has to look good and I can help you with that.
Branding Approach
If you are an existing brand or business and want to retain your current branding I'll talk all art direction from your existing branding. If you're a new brand then we have a blank canvas to work with and I'll need your input and direction to find the right tone and approach for your branding. This co-operative approach for branding yields the best results as it's important that your branding embodies your core business values
Branding Deliverables
At the end of your branding project you will have a suite of branded graphics for all your needs. The deliverables will depend on what your branding project requires, ie, logo, business card, print design, social media graphics. I can provide all of the graphics in a variety of formats as per your requirements.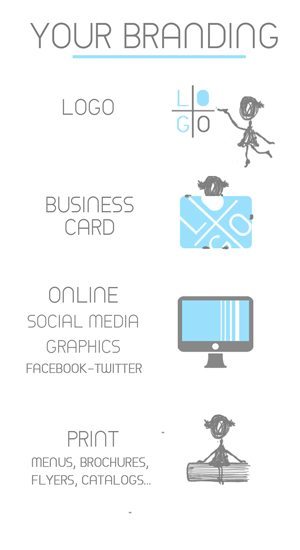 Social Media Branding
In this day and age most businesses are active online on Facebook, Twitter and the likes. Give your business an added edge with a professional suite of branded social media graphics. I keep up to speed with all of the specification changes for social media graphics and can quickly create great social media graphics for your business
Branding Examples
Check out some of my previous branding work here:
---
To avail of any of my branding services and to get a free quote, please push that button to
contact me now
!