How to Create Your Own Stuffed Toys
Every Christmas I have a little design project that I usually share with those that are close to me. Last year I decided to design a Christmas Card for all my friends and I wrote a post about Christmas card design as well if you want to check that out later. This year I decided to focus my project on the little ones of my family, my niece and my nephew Sofía & Martín. It was their little Christmas present, so it was actually a present from the 3 Wise Kings, they will know in few years when they are not that innocent that the present was designed by their favourite aunt :P.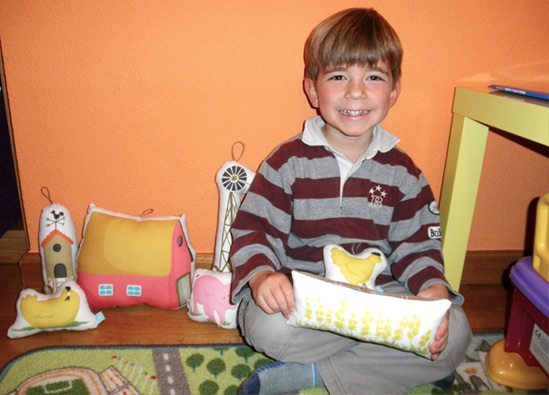 The project consisted of the design of stuffed toys with the THE FARM as the theme The illustrations were the following: a pig, two hens, a mill, an apple tree, wheat, the hen house and a barn. The illustrations are designed by me and I also designed a little label with the name of the brand "Chica" (Girl) that I'm using for these special projects. I wrote a blogpost about her as well. Check it out here.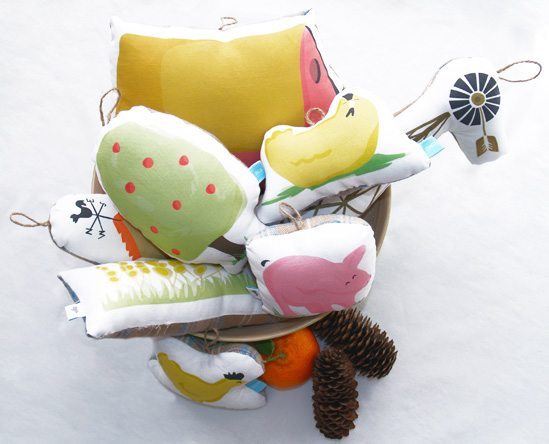 Stuffed Toy Project – The Process
The process for the stuffed toy project was the following:
1 – I first designed the illustrations for printing – starting from sketches initially and then vectorising for print. The company I choose for printing the designs was Spoonflower. I first heard of them when I took part in one of their contests for a tea towel design (and came third :D). By the way Spoonflower is based in California so if you are thinking about ordering something from them factor in that shipping might take 2 or 3 weeks. I had to order the fabric one month in advance to have the cushions ready on time.
I ordered 1 Yard of linen-cotton canvas, very strong fabric for little toys that are going to be handled by kids. If you are interested in starting your own stuffed toy project and want to have your own FARM I made the design public for anyone to buy so you can have your own soft toy farm. Follow this link to Spoonflower and remember to order 1 yard of linen-cotton canvas. You will receive 2 full sets of soft toy patterns and few extras like: big pig, big hen and big wheat on 1 yard of linen.
2 – I bought a nice fabric in a local shop for the back of the cushions, I choose something brown and with squares as I thought it fit the theme.
3 – I bought the stuffing in a local shop as well. I think I used less than half kilo to stuff a full set.
4 – I cut all the illustrations out following the lines so that I could start sewing.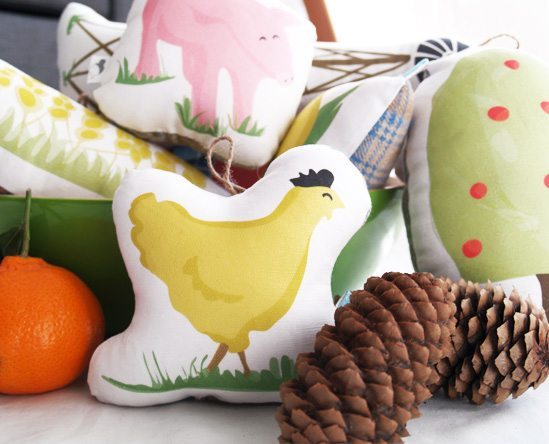 How To Create Your Own Stuffed Toy – Infographic
As a graphic designer and a lover of infographics I could resist putting together an infographic to try help illustrate the steps and process for creating your own stuff toy – hope you like it!


I hope the infographic is clear and if you finally decide to give it a go I hope you enjoy creating and sewing your own stuffed toy farm set as much as I did. I have to say it was a great great experience and I was surprised at how easy it was to make them so I have a few new ideas in mind now for more stuffed toys so stay tuned… Anyway, when I'm not stuffing toys I'm happily working away for clients so if you'd like to become one, then feel free to get in touch. 😀