Give Your Business An Infographic And..
Infographic design is something that I've been doing a lot of recently for a few clients. From designing these infographics for them, and seeing how they have spread, I've been able to see a few benefits of infographics, which I've highlighted below (with an infographic of course!).
When approaching infographic design, like all graphic design work, I first work with the client to extract the info for the infographic. The best way to receive the info is in rough doodle or sketch, stickmen and pointy arrows type thing, as this gives me an idea of what has to be portrayed. After that it's a case of finding the best way to visually represent the concept or info.
Now, onto the benefits of infographics – people will share the infographic, people will talk about the infographic, people will post the infographic on different social networks, people will engage with it, people will visit your website because of it, people will be exposed to your branding! All of these and more can happy with a good infographic.
If my explanation wasn't clear enough I've designed an infographic about that where I am talking about which shows 6 benefits you can get with an infographic about something related to your business. These 6 benefits are the following:
1- Present Tricky Concepts Visually
A picture tells a thousands words and an infographic can help you get your message or pint across clearly
2- Establish Authority
An infographic allows you to demonstrate your knowledge in a given area which helps you establish authority for that niche
3- Increase Awareness Of Your Brand
Infographics can be branded and as they spread so does your branding
4- Get Social Traction
As social media becomes more visual, infographics are a great way to get some social traction as they garner a lot of engagement
5- Increase Traffic To Your Website
Infographics are great for sending targeted traffic to your site. If someone finds an infographic useful the odds are they will visit your site or accompanying blog post
6- Reap the SEO Benefits
Good infographics get you good, organic back links as people share and link back to your website.

Infographic Design Examples
I would like to show you as well few examples of infographics that I have done for RobertRyan.ie and Amara.ie They have used them in different social networks like Google Plus, Pinterest, Twitter & Facebook as well as sharing on their business blog.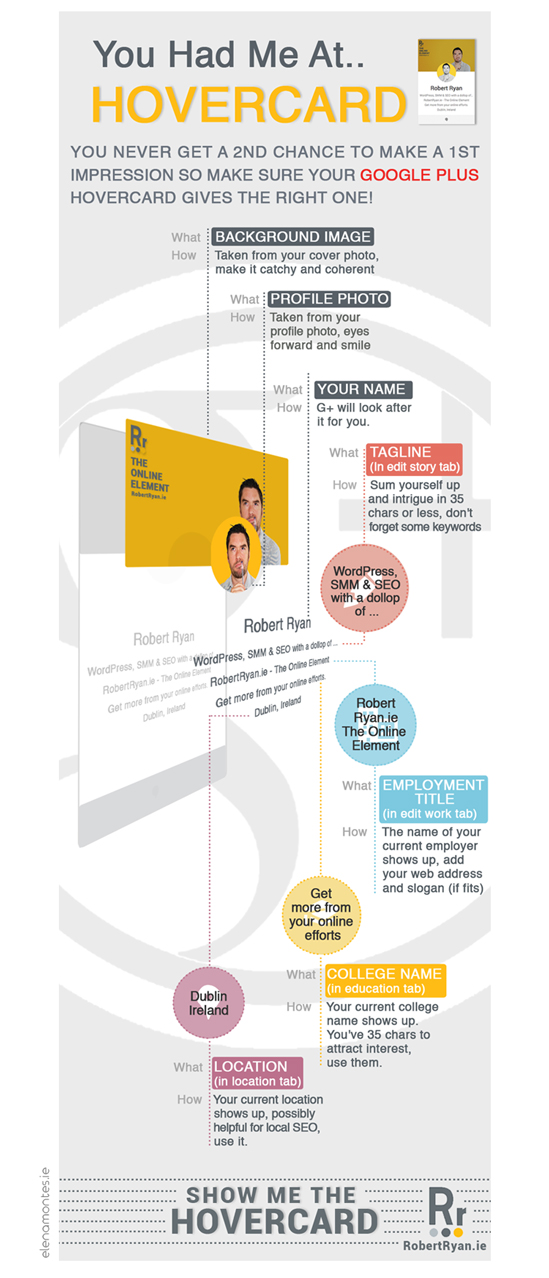 Client: RobertRyan.ie – has over 30,000 views on Google Plus alone.

Client: Amara.ie – which generated social chatter and some backlinks.
Client: RobertRyan.ie – over 250 shares on Google Plus!
If you're thinking about getting an infographic for your business please get in touch!