For the last few days I've been working on a design project for a Cafe in Dublin where I used to work before…and where I had some good times and good memories.
They requested a standing menu design for their tables. They wanted the drinks & dessert menu to display: desserts, pastries, ices creams, wines, beers and few more little things :P To be honest I thought I was going to have to tell them that maybe I wasn't going to be able to add all of the elements to it, but at the end I was able to fit everything onto the little menu.
The menu is folded A4, printed on both sides and laminated to give it a longer life.
I wanted to show you a little bit of the design process as well, in particular a part of the process that not that not too many people talk about, the "FRUSTRATION.
Did you ever get the feeling that the ideas for the design, or whatever you want to create, just won't come into your head? A feeling like your muse has abandoned you, that whatever you try to draw or design is just sh**!..well you can see some of my "frustration" in the above!
Drinks Menu Design – "THE FRUSTRATION"
…when this happens to me (the "FRUSTRATION"), I just close the laptop and go to watch a movie, read a book or play Candy Crush ;)
..and it works…I think!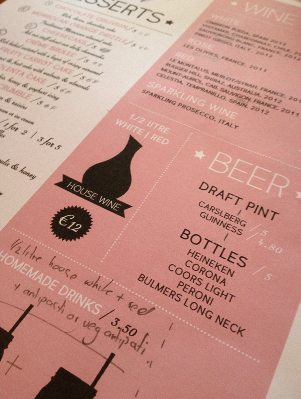 For the final menu design I decided to play with 3 colors: black, white and pink (their logo is pink). I added few icons for the carafe, jam jars, banners and added some little stars to the menu to give it a little bit of movement. Images help to send a message and I always try to use as many as I can. The menu is divided into sections to make it easier to read. The final touch of this design was to add a little bit of noise and texture to the background so the colors are not completely plain.
The menu has been presented to the client and just a few changes have been made – adding some new items and changing the colours slightly.
I think they were happy with the final design and every time people are happy with my design I feel a big relief.
Have a nice day and if you've a design project for me please get in touch!
PS I'll post more images of the menu when is printed ;)