For the last few days I've been working on a special project that I'm very happy to be a part of.
Yannick & Louise (well it was actually just Louise) called me and asked me to design some menus with nice illustrations for a pop up dinner they are going to do in few days.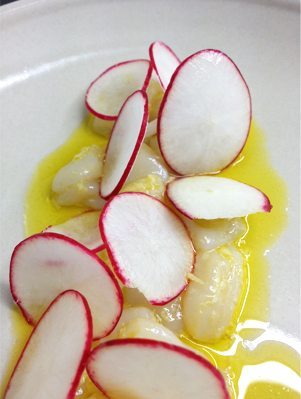 I couldn't say no to them and it was a great opportunity for me. I had freedom for the design but they told me that they wanted something clean, simple and not over the top – something like their food.
I don't know if you've ever heard about Yannick & Louise but maybe you've heard about Noma (Michelin star restaurant and winner of The Best Restaurant in the World Award by Restaurant magazine – 3 years in a row!)? Well, Yannick and Louise worked there to learn the craft and then set out on their own. They decided to move to Ireland, where they experimented with Irish ingredients, and I have to say that I very lucky and I was able to try their food. I took a picture of one of my favorite dishes: raw razor clams with horseradish and radish..nom, nom.
Anyway enough talking about them, let's talk about me…I mean about the menu design ;)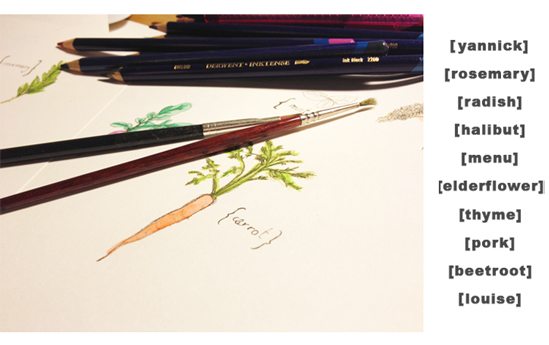 I decided to use illustrations of different food ingredients used by Yannick & Louise in their recipes. I drew them first and then painted them with watercolor pencil. I then scanned it in to Photoshop where I added some contrast to the illustrations and introduced some text.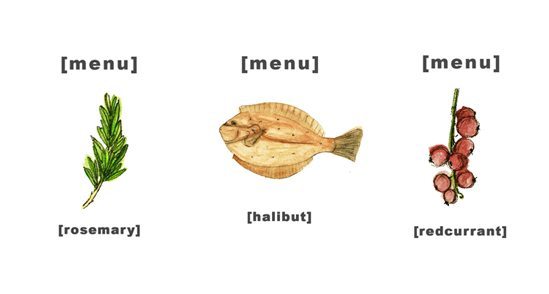 The menu will be printed on A4, 220 grms and folded in half later….The base colour of the paper is cream and it is ever so slightly textured so it will give the finished printed design a great look and feel.
P.S. I'll post more images of the menus in the next few days :D