This blog is a follow on from an earlier post about the menu design project for Yannick and Louise to show you a few more images of the completed menu design project for Yannick & Louise for their cooking event in Savory Kilkenny. It was a pop up event so they wanted something simple for their menu but at the same time something that would reflect their style of cooking.
I drew different fresh ingredients like rosemary, radish, thyme and other items that Yannick and Louise might use in the kitchen. I drew 8 different illustrations in total so they have 8 different menus. I like to think that people around the tables will be intrigued  and curious about others people's menus and hopefully that will set the tone for the meal to come.
All the illustrations are original and painted with watercolor pencils. I scanned them and I just added a little bit of contrast and brightness in Photoshop but they didn't need anything else. I really enjoyed this project, I usually spent 80% of my time in front of the computer but this time it was the other way around, 80% with brush in hand and…and I just loved it.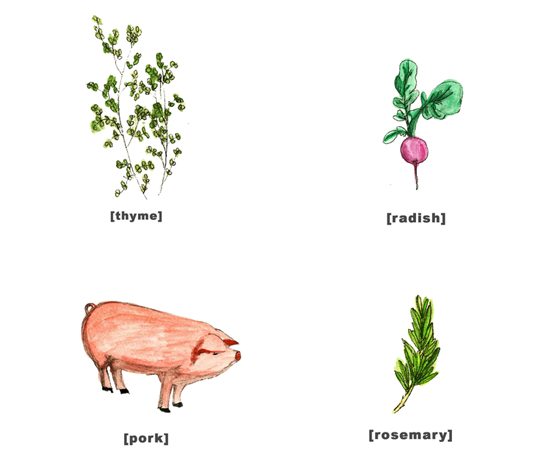 Dinner's Ready – Menu Design for Yannick & Louise
The menu that they created for the event looks gorgeous and made me hungry just reading it. If you want to see some of the foodie pictures from the event you just need to follow Yannick and Louise on Twitter @yannicklouise
The menu is framed with drawings that I made of Yannick & Louise. I designed a special menu with them and give it to them as a present….oh yeah I'm such a nice girl :P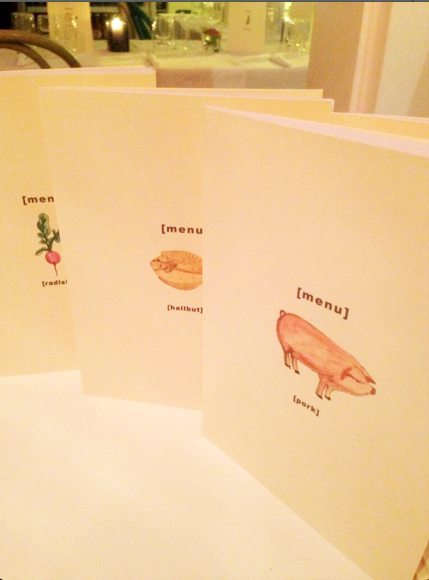 They sent me an image through twitter with the menus on display – a nice tweet to receive. I was talking to Louise and she is going to be very busy until Christmas working in Noma, but I think she might be doing more events like this one in Ireland…and I will definitely get tickets for the next event…I really don't want it miss it (not to mention that I'll be happy to design more menus for them of course) :P