You pressed the + because you're curious, I like that..
You can search the site from here and track me down online!
If you want help with any design project please
get in touch.
Hi, I am Elena, a graphic and web designer…and if you want to know a little bit more about me…then, please keep reading ;)
Graphic Design Background
I've been working as a graphic designer for more than 4 years. Although my first steps as a graphic designer started years before, with photography. I learned to use an analogue camera and how to develop photos in a B/W laboratory…but then analogue cameras more or less became obsolete when digital cameras arrived…When I started with a digital camera I then learned to use Photoshop…And so for the last 8 years I've been a graphic designer and have now realised that what I really enjoy doing is this.
My background is not just photography, I studied History of Art in Madrid for 5 years (Universidad Complutense de Madrid) and then I moved to Barcelona where I did a Masters in Museography. My years in college gave me a great background in art, artists, styles, literature, history – knowledge that I use everyday when I sit in front of the computer or with a piece of paper.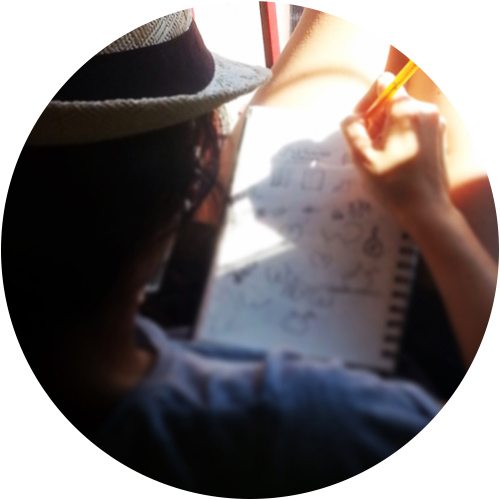 Designer on the Move
7 years ago I moved to where I now call home, Dublin.
Dublin is where I created LadyUmbrella. She is my interpretation of the Irish weather, a lady with an umbrella for a head – a very peculiar character. She become the main character of my t-shirt company which was launched over 5 years ago. I designed 3 t-shirt collections, 1 collection of jeans, tote bags & stationary as well. I also did all the logo design, branding and graphic design for LadyUmbrella…curious now? Ok you can go and check the old LadyUmbrella website here (a new site is coming soon).
Dublin is where I improved my graphic design skills with Photoshop and Illustrator and completed different courses for them.
At the time I was doing the graphic design for LadyUmbrella I was also doing some logo and printing work for a Cafe called Pyg Cafe in Dublin. I designed the logo for it, its menus, its promotional designs, its business cards. This first job was the beginning of my professional career as a Graphic Designer and hope that I'll continue to be one many years to come!
---
To get me to do some graphic design or web design work for you, please push that button to
contact me now
!