Graphic Design – Drinks & Dessert Menu Design – Pyg Cafe
When doing all graphic design jobs I like break the project down into different chunks so that I can view the project from different perspectives. This drinks and dessert menu graphic design project for Pyg Cafe was no different. Throughout the design process I considered a few different factors – which I'll outline for you now :)
1. Durable: The Pyg Cafe menu is being printed on heavy paper and laminated with a matt finish (there is a choice of gloss lamination also) but the matt finish gives the menus a more professional finish and helps to keep them somewhat dry (not easy in a busy cafe!).
2. Clear, easy to understand: I divided the menu in different section and used dividers to make it easier for the customer to find and choose what they want quickly. For the menu I used 2 different fonts: Savoye LET and Whipsmart to create dynamism but I chose Whipsmart to be the main font as it's clear and simple.
3. Eye catching: The cafe is located in the middle of Powerscourt Townhouse (South William Street, Dublin) and it is an open plan Cafe so people can see the Cafe from anywhere. Due to this fact it was important that the menu was attractive from a distance. It's main purpose is as a menu but if it can also attract the attention of people that pass by then that's an added bonus. This is the reason why I decided to use the contrasting bold pink and black backgrounds so that as people pass by the colours just might catch the corner of their eye.

4. Brand aligned: I've been doing the design for Pyg Cafe for the last 3 or 4 years so I always try to keep the same style all the time so people can identify the design with the brand (although I always try to improve the designs). One of the elements that link all the menus is the PINK color.
5. Effectiveness: When I met the manager of Pyg Cafe to discuss what he was looking for in this menu he said he wanted it to really entice and engage people so that the cafe could sell more drinks and desserts (they currently do very well on their lunch menu). To try liven up the menu to grab peoples attention I decided to add some shapes, like a carafe and a jam-jar.
6. Put some graphic design into your business: Competition between business is getting tougher and tougher but to make your business to stand above the other ones it's important to have good graphic design (but, of course I'd say that!). If customers see that you care about the little details, like the design of your drinks and dessert menu for example, you'll be ahead of your competitors.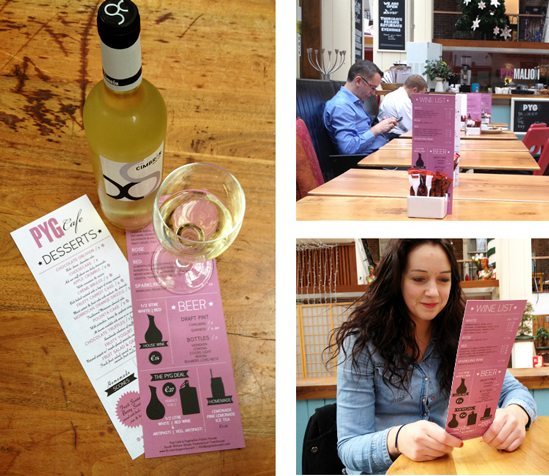 Finally I just wanted to post some images of the menus in Pyg Cafe.  I was briefly talking with the manager of the Cafe two weeks after the menus arrived to the Cafe and he told me that sales of wine, beer and desserts have increased since the menus arrived. So I think my job is done for now ;)